"Yeah-Yeah he looks pretty crappy" - Alan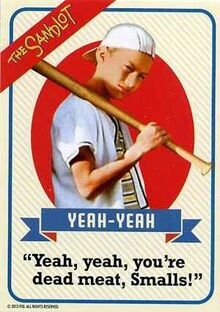 Alan McClennan was a member of the sandlot team in 1962. He spontaneously repeated 'Yeah-Yeah' in the beginning of whatever he said. 
History
Alan lived in the neighborhood from probably the 1950's as he was there when Scotty Smalls came to the neighborhood. He is always seen chewing gum.
Playing In The Sandlot 
Like others baseball was life for Alan . Whenever the ball disappered he went to buy it from the Vincent Drug Store with Squints , where he and squints stared at Wendy Peffercorn .
He always played a good game . Alan made a lot of smalls when he first started playing baseball . He was astonished when Scott took a catch for the first time in his life.
When Smalls joins the team, Yeah-Yeah is called a duck by Benny because of the way he runs.
Fight For Babe Ruth's Ball 
Alan equally helped others in retaining the ball from the backyard of the beast he was in all the struggles . In the vacuum plan he holded the vacuum tightly but the ended up running out of the tree house .
When the sandlot kids sent Alan by a lift into the backyard to get the ball, as soon as he touched the ball the beast came into his face and he screamed like hell . When the team found out Mr . Mertle friendly like the others he beat squints for his false story .
Military School And Career 
It is told in the end that yeah-yeah parents shifted him to a fine military schools. After school he became one of the finest developers of bungee jumping. 
Aftermath
Alan left the neigbourhood and continued his progress and development in bungee jumping .
Community content is available under
CC-BY-SA
unless otherwise noted.