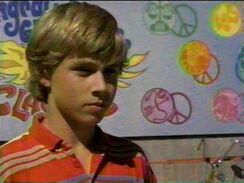 David Durango, also known as David Rocket Durango, is one of the chief characters of the movie, The Sandlot 2. David was the captain of the sandlot team during the year 1972.
Early Years
As a young kid, David was bitten by Goliath, the Great Fear. David confessed, that he was the kid originally bitten by Goliath. Prior to his confession, his story was known as folklore of an unknown kid attacked by the beast sometime in the past.
Captain and First Love
David Durango was the official head of the sandlot team. He led his team as a sincere friend and never parted his way. During his routine practice, he came upon a new neighbor, Hayley Goodfairer. It was a love at first sight, but David was to shy to admit and confess it, until the end.
Struggle for the shuttle
David Durango contributed a lot in the retrieval of the shuttle. He ran as hard as could with his new shoes and succeeded in his mission.
Aftermath
After the truth was uncovered and the shuttle was retrieved, David confessed his love for Haley Goodfairer and went on to marry her in the future.