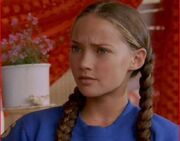 Hayley Goodfairer is a main character in The Sandlot 2. She lives next door to Mr. Mertle next to the Sandlot. Hayley is portrayed by Samantha Burton.
History
Hayley resides in the San Fernando Valley in Los Angeles, next door to Mr. Mertle. She goes to school with David Durango and his teammates, Saul, and his brother Sam (AKA Fingers), Mac, and Tarqell.
Protecting Johnnie
When she and David meet, David is too nervous to speak. Upon arriving at the Sandlot, David and his teammates spot Johnnie Smalls in their dugout, preparing to test a rocket; getting the impression that he's with their rival Singleton, who intends to seize control of the Sandlot, they attempt to stop him, inadvertently causing the rocket to aim directly at Johnnie, slamming into the couch, then chase him into Hayley's backyard, where they demand that she turn Johnnie over to them, but she refuses. While the boys borrow Hayley's garden hose to put out their burning dug out, Hayley tells Johnnie that in return for protecting him, he has to do some things for her.
Fight For The Sandlot
The next day, Hayley and her friends, Penny and Jenny, use the Sandlot for softball practice, much to David's annoyance and dismay. After several unsuccessful attempts to get Hayley and her friends to leave, Johnnie suggests sharing the Sandlot. David is opposed to having girls on his team at first, but his teammates, Tarqell, Saul, and Mac point out that they're really good, and if they want to beat Singleton, they need four more players on the team. Thus, Johnnie, Hayley, Penny, and Jenny become part of the team.
The Game Against Singleton
During their game against Singleton on Friday, David's team is on the verge of winning, but just as Hayley is about to reach home plate, Singleton deliberately hits her in the stomach. An infuriated David punches him in the face and tells him and his team to leave.
Retrieving The Shuttle
Just as Johnnie begins to get on good terms with Hayley's dad, he accidentally launches a shuttle he has been working on, and it lands in Mr. Mertle's backyard. The kids make several attempts to reclaim it, without success. Eventually, David goes inside, and gets the shuttle out, but is chased by Mr. Mertle's dog Goliath, AKA "The Great Fear". After rescuing David from the caved-in tunnel with help from Goliath, the kids meet with Mr. Mertle, and they realize Goliath just wanted to see a female Mastiff named Tiny. In that moment, Hayley and David have their first kiss. Tiny and Goliath have five puppies together, with Hayley, Penny, and Jenny each getting one, while the other two go with Mr. Mertle.
Later Life
As the kids grow up and follow their own futures, Hayley becomes a supermodel and a pitcher for the Olympic Softball team, winning two gold medals, and goes to high school with David, then they part ways, then meet again ten years after college, and they get married.