Babe Ruth is the greatest player ever lived 
- Mrs.Smalls
The real name of Mrs.Smalls is not known . She is the mother of Scotty and Johnnie smalls . 
Early Life
Not much is known about her early life . Her first husband and father of Scotty Smalls passed away in the childhood of Scotty . She brought Scotty Smalls on her own and loved him until her second marriage(Bill).
Second Marriage
She married Bill Smalls , a wealthy business man in 1961 . And moved out to a new neighbourhood in 1962 . She had a key role in framing Bill and "Smalls" relationship together. She encouraged Smalls to go out and get dirty , play with friends. She loved her son more than her life . 
Johnnie Smalls
Later in 1962 Bill and Mrs.Smalls had a son named " Johnnie Buckminister Smalls ". He was the half brother of Scotty Smalls .
Aftermath
She continued to live happily with her husband and two sons . She also continued to live in the neighborhood, although Bill frequently goes out of the city for business meetings .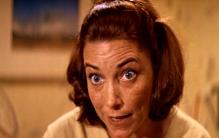 Community content is available under
CC-BY-SA
unless otherwise noted.