Jurassic World: Dominion Dominates Fandom Wikis - The Loop
Play Sound
" Shut up Porter! "
- Philips gets angry when Ham makes a joke about his sister.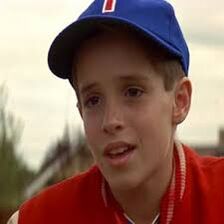 Phillips is the secondary antagonist of The Sandlot. He is the leader of the Tigers, a little league baseball team that rivals the Sandlot Kids.
The Tigers 
Philips played in the little league team of 1962 called the Tigers. Later he started leading the team and became the captain of the Tigers.
Rivalry with sandlot kids and the challenge 
He gets embarrassed while he gets in a fight with Ham Porter. This leads on to the game the rivals play the next day and the throw up scene is caused by this.
While in a fight, they started calling each other names but Ham Porter said "You play ball like a girl" (which is one of the classic lines along with " You're Killing Me Smalls")
This leads on to Phillips getting embarrassed and telling them to do a game at the Tigers field. "Tomorrow at 12'o clock, at our field"
Match With The Sandlot
The Next Day the game started. Ham tells that Philip's sister is out in left field naked. Phillips goes angry. "Shut up, Porter!" . In the end being struck out because of the distraction made by Porter . After this event Philips was never seen again near the sandlot or the sandlot kids .